The harmful effects related to sitting in front of a computer all day often go unnoticed until it's too late.
Most of the computer-related damage takes time to develop. When it does, they can take a lot of time and money to treat properly.
Your Online Self-Assessment Solution
Watch Dr. Kevin Christie explain the benefits of using this tool.
Ergonomic Self-Assessment
Our Ergonomics Self-Assessment is a 29-point guided assessment that assesses and trains the desk jockey on their working environment, seating, keyboard, monitor, work area, and desk accessories. The self-assessment is based-on OSHA guidelines and is designed for your office and at-home workforce.
The Four Phases Of Our Program
Complete Guide To Empowering Your Employee Health
The Desk Jockey Course
The Desk Jockey Course provides tips, and technique for making your office environment as health effective as possible.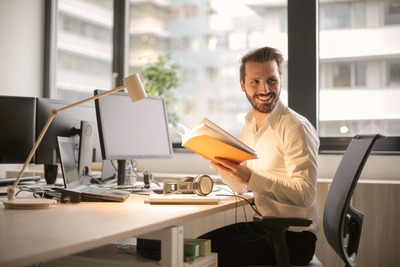 The Ergonomics Self Assessment
Every employee is given a test to assess how healthy their current workspace is. You can easily access your company-wide results.
Ergonomic Results Reporting and Analytics
We provide ongoing training so all the content stays top of mind. Each employee is given a plan to make the best use of their current workstation.
Ongoing Support and Monitoring
This is not a "one-and-done" event everyone forgets. We offer a comprehensive program to transform your company health culture for good.
By learning and applying proper ergonomics, your team minimizes the risks associated with prolonged sitting at a computer workstation all day
It reduces the chances of developing repetitive strain injuries, and reduce future medical expenses, saving your company money in benefits.
In addition to better health, your team will also become more effective and productive. Working becomes a more enjoyable experience in the short and long term.
Your Team Deserves The Best Tools To Stay Healthy At Work
Don't waste another dollar or minute on expensive programs that just don't work. Schedule a call with our team right away.
Schedule A Call